We recognise that juniors are the future of our club and therefore the importance of building a vibrant and enthusiastic junior section. This is why we ensure we provide regular coaching, competition opportunities and family social events in a welcoming, encouraging, fun and safe environment.
If you are just starting out, learning with us or playing on a regular basis, all our juniors are valued members of our club. Everyone is very welcome.
Your junior golf journey starts here….
Here at Royston Golf Club we have a structured pathway for juniors, from a complete novice golfer all the way into a full junior member: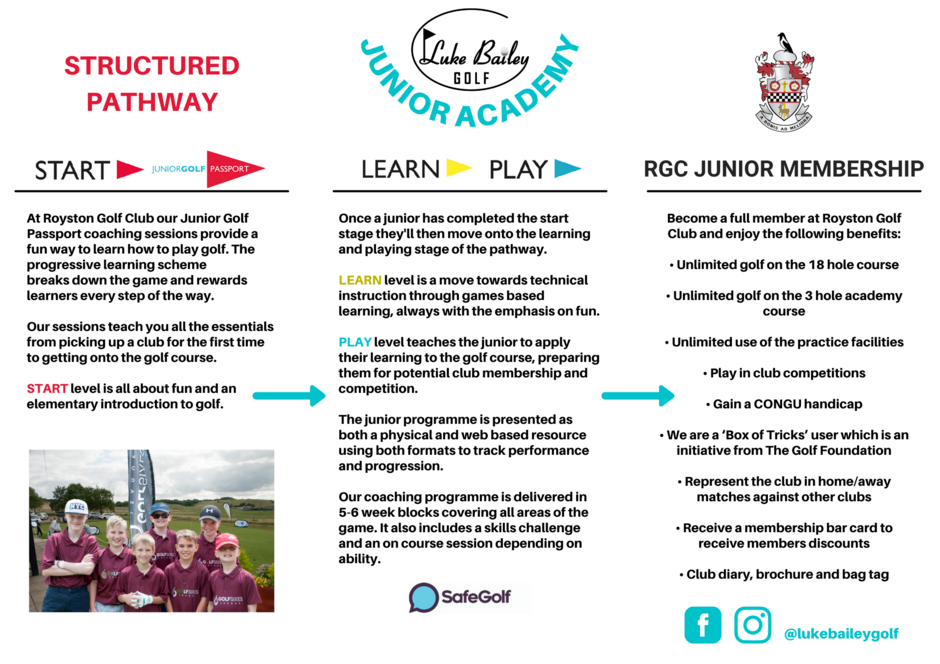 Upcoming Junior Group Coaching
Saturdays: 21st October, 4th November, 18th November
Times
Under 10's: 9:30-10:30
10 Plus: 10:45-11:45
£40 for the whole 5 weeks or £10 per individual session.
Junior Camps
Dates to be confimed for 2024
Golfing days packed full of fun activities to cover all areas of the game. Each day includes: long game & short game coaching, skills challenges, 6/9 hole competition and prizes.
£30 per day (receive 10% discount when you book on both days).
To book onto any of the above sessions please email lukebaileygolf@gmail.com
Come along for a FREE trial session!
Trial our academy with the first session free of charge and learn the basic fundamentals. Parents will have the opportunity to speak to Luke to ask questions and learn more about the academy.
The Academy Course at Royston
Having opened in 2016 our 3 Hole Academy Course at Royston is great for juniors and beginners alike. Its short but but challenging and is frequently used during the running of our programs.
Hole 1 – 72 Yards
Hole 2 – 89 Yards
Hole 3 – 46 Yards
Sign on to a program and you can use this facility for FREE.
Free junior membership for under 11's
Book on any golf program (1 or more) and get free golf membership for under 11 years.
More about our Junior Coaching programs
Our programs cover the following key areas of golf;
Putting

Short putting
Long putting
Lag putting
Green reading

Short game

Lofted chip
Chip and run
Pitching
Bunker play

Swing

Grip
Stance
Ball position
Swing technique
Movement

On the course

Rules of play
Course management
Awkward lies

Fit for golf

Power
Stability
Flexibility
Fundamental

Ready for Golf

Preparation
Warm up
Rules and Etiquette

Skills for life

Honesty
Respect
Cooperation
Perseverance
Junior Golf Passport plays a huge role in the strength and success of the program. The logbooks offer a comprehensive support tool for child and coach allowing both parties to track progression and performance.
The equipment needed to run the program is very minimal. Alongside traditional facilities and equipment such as the driving range and practice ground, putting green, practice bunker, golf course and cones, the games do not require any additional equipment.
Volunteers and parents can play a huge part in the program and it is recommended to engage parents from day one and throughout the coaching program. The involvement of parents is encouraged to help aid the learning potential of their own child.
One key consideration of the program is safety. Safety is listed as a Skill for Life within the program and applies to all those involved including children parents, volunteers and coaches. Steps are taken in each session plan to provide clear guidelines for safety guidelines.
For more information of Junior Golf Passport click here.
Royston Golf Club is an ' Official Golf Roots Centre' Find out what it means click here.
School Coaching
Please get in contact if you are interested in having golf at your school by emailing: lukebaileygolf@gmail.com