The Ladies had a very successful Invitation Day on Tuesday 22nd August.
24 players from various clubs participated in teams of 4.
The winners were Helen Steverson, Liz Slaughter and their guests, on count back from Kim Bradfield, Wendy Hallums and their guests.
There were 2 Nearest the Pin prizes on Holes 6 and 16 - both won by guests.
It was a beautiful day and lovely to hear great compliments about our Course and the delicious Afternoon Tea.
Thanks especially to our Greens and Catering Teams.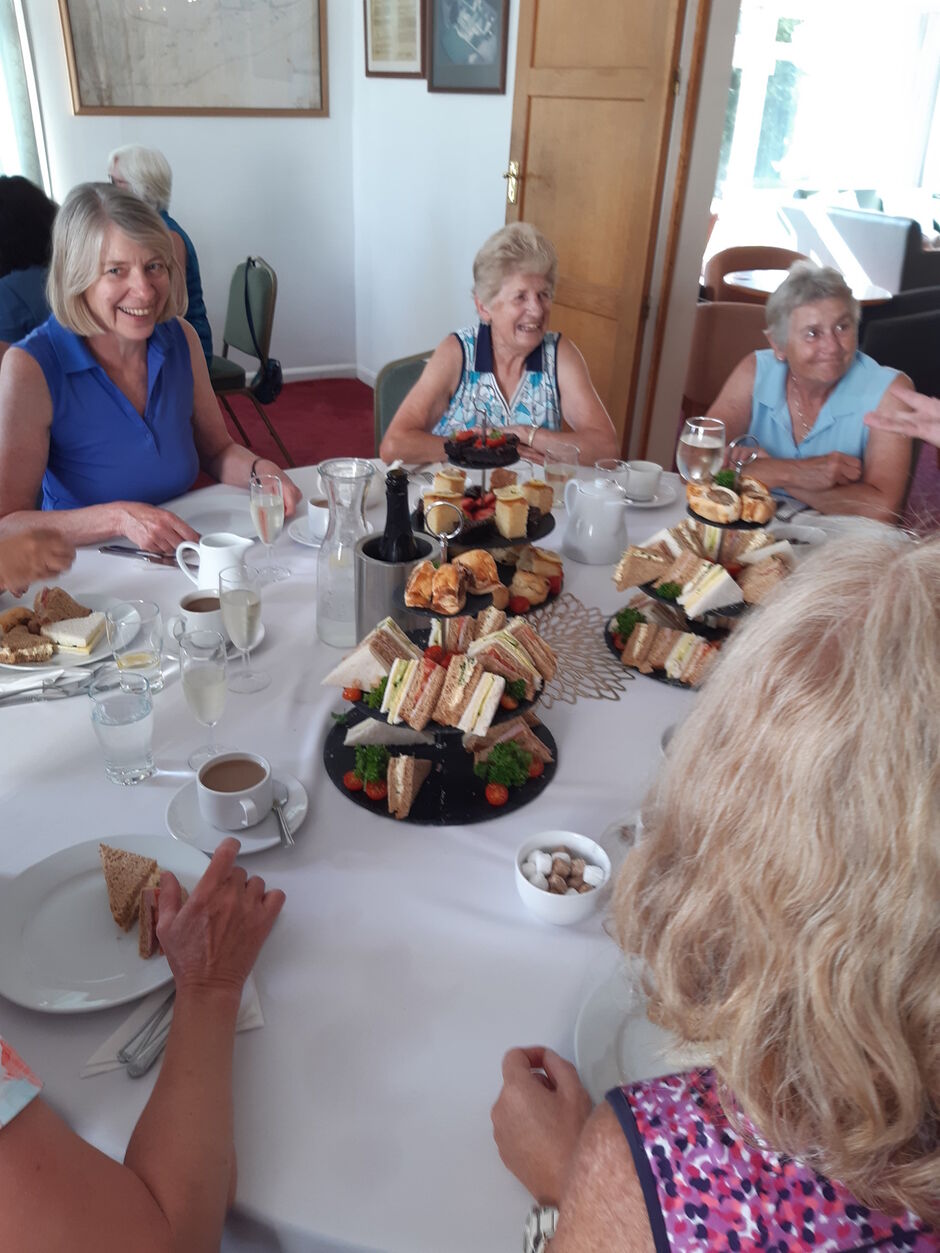 The Ladies' Club Championship
Royston Ladies competed in their annual Club Championship Competition over the weekend, playing 36 holes in glorious weather over the 2 days for the Championship Trophy and the Bronze Trophy [dependent on handicap]. Whilst it was very challenging, it was also wonderful to see some of our new members participating and enjoying getting involved in the event.
Following the competition the ladies were treated to cake, biscuits and Prosecco, which was kindly donated by our Chef Julie and the Lady Captain Sue Bidwell - who sadly had to pull out after the First Round.
Our overnight leaders, Tracey Parsons and Chris Dewhurst, were both unable to retain their lead into the final round.
The photos below show the Ladies' Club Champion Sandra Williams [gross 188] receiving her Trophy from Lady Vice Captain Kim Bradfield.
The Runner Up prize went to Tracey Parsons [gross 191]
And the Best Nett prize went to Steph Denton [nett 157]
Secondly, the Bronze Trophy winner Helen Steverson [gross 213] alongside Kim and Sandra.
The Runner Up prize went to Annette Copeland [gross 213]
And the Best Nett prize went to Kim Bradfield [nett 157]
It was a very successful event which ran smoothly with all the competition input from Sandra Williams and Sandy Griffin.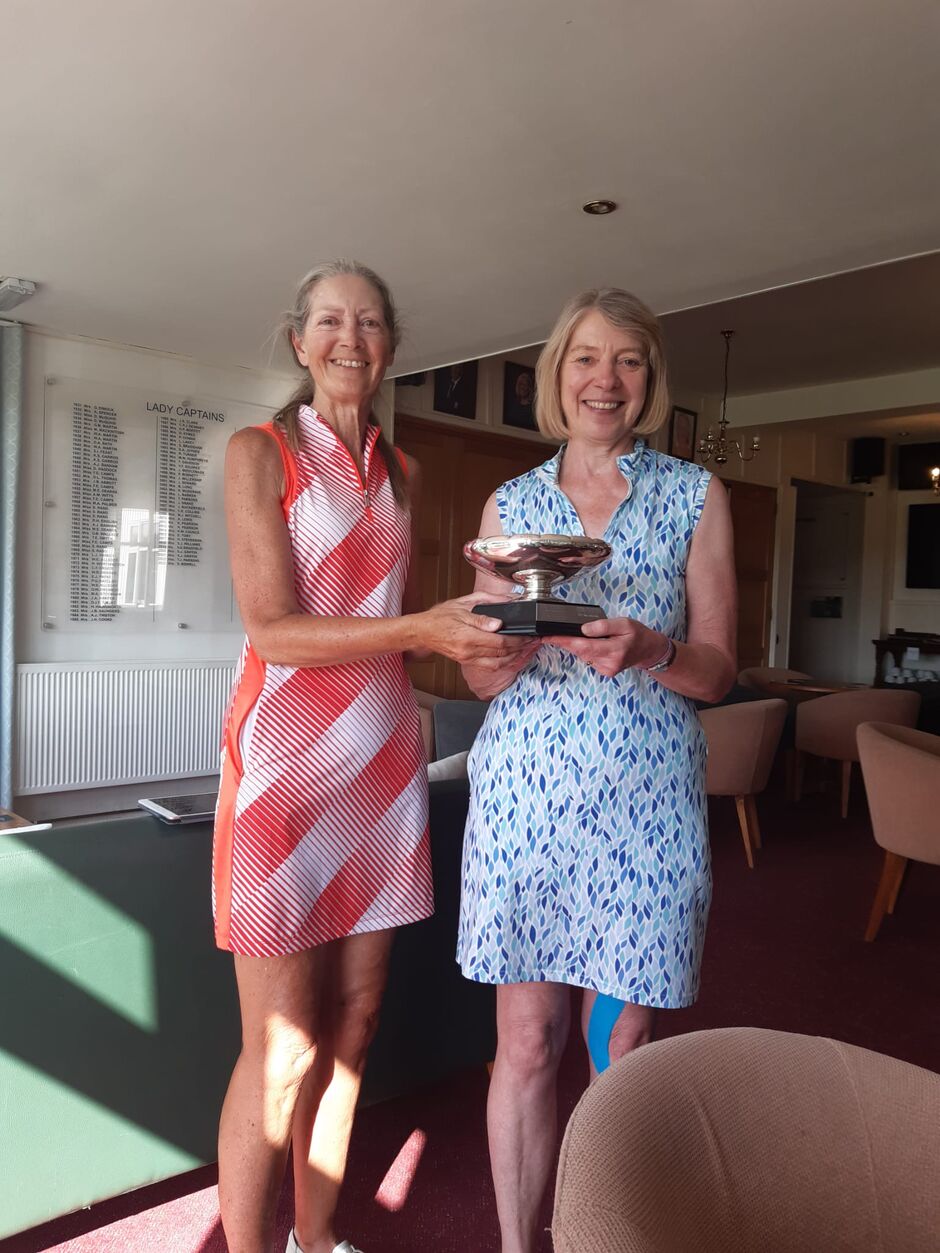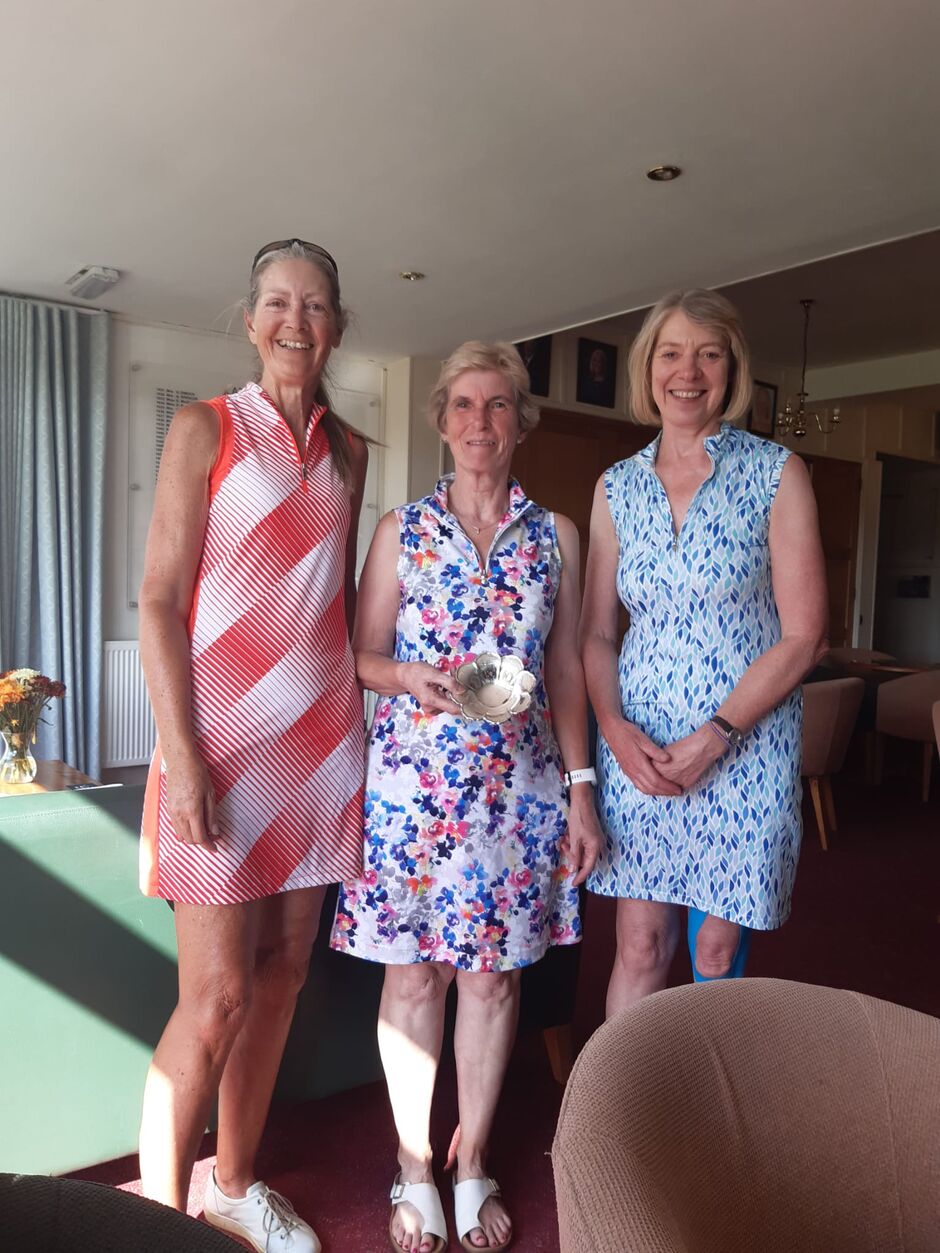 The Bowen Cup remains at Royston for another year!
The annual match for the Bowen Cup, between Royston and Saffron Walden Ladies, took place on Thursday 7th September at Saffron Walden Golf Club.
A total of 36 ladies, 18 from each club, played in this stroke play game for the prestigious trophy.
The well deserved winner was Sandy Griffin, who played a remarkable round of golf in the September heatwave, scoring a nett 72.
At the same time the 2 Clubs were playing for the Dorothy Johnson Team Trophy, which the Royston Ladies retained this year again, as the scores resulted in a draw overall.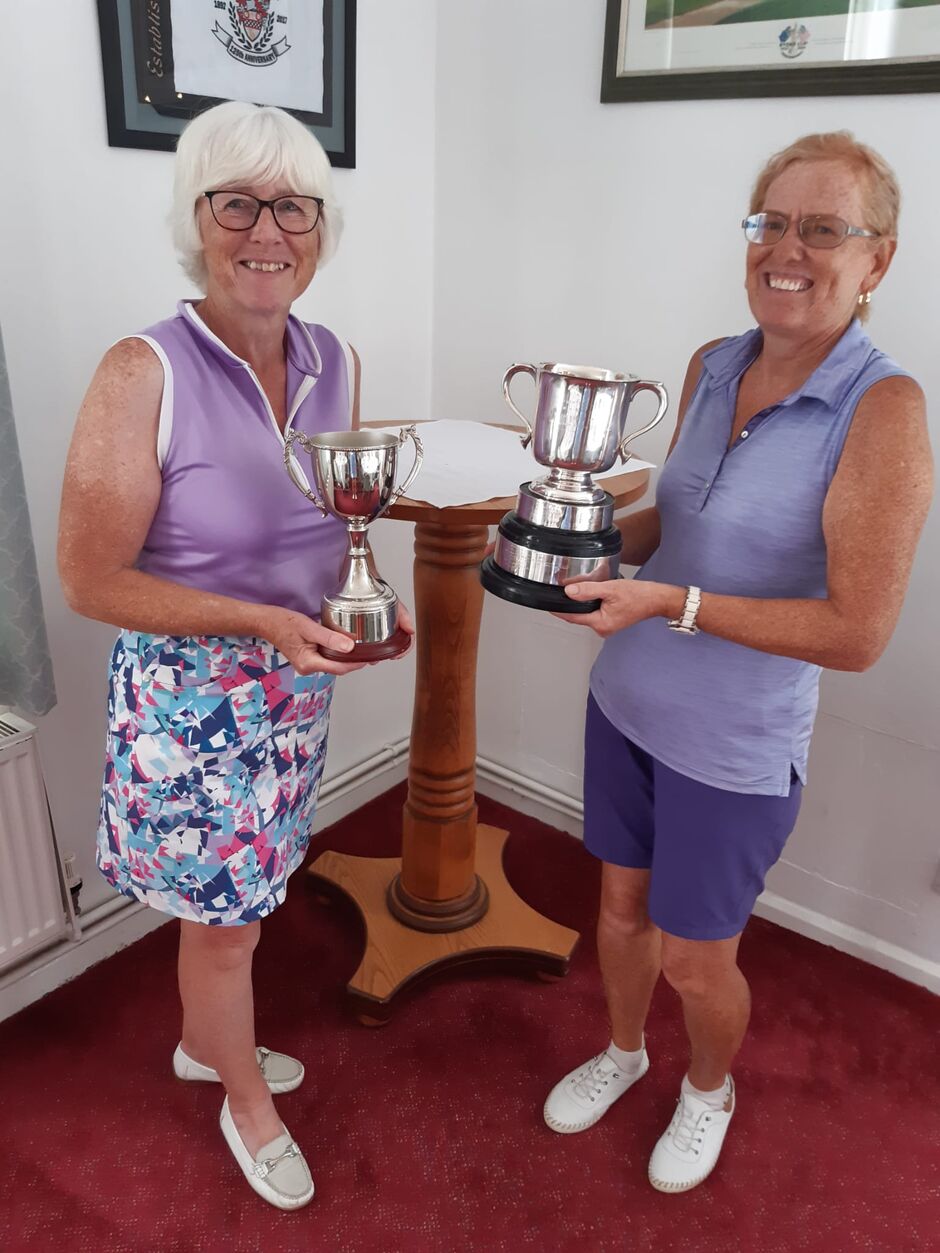 The photo above shows Royston Ladies' Captain Sue Bidwell with the Dorothy Johnson Team Trophy alongside Sandy Griffin, who was awarded the Bowen Cup.
The Jean Wilkinson Inter Club County Competition came to a conclusion on
Thursday 28th September.
In the early stages the Clubs played their group matches both at Home and
Away before the winners went on to compete in the Semi Finals and Finals Day
at St Neots.
This is a matchplay competition for 5 players and uses a squad of players
and Caddies during the earlier rounds.
The Semi Finalists were Brampton Park v Cambridge Country Club and Royston v
Ramsey.
The morning Semi Finals were played in good golfing conditions and saw
Cambridge Country Club and Royston beating their opponents. Following a
quick lunch break the 2 remaining Clubs went out again to complete a second
round in the day.
As expected the matches were very close but after going to the 19th hole in
the last match, Royston won.
The Royston ladies were delighted to be presented with the magnificent Jean
Wilkinson Trophy.

Below are photos of the team on the day [including the Caddies] and of Lady
Captain Sue being presented with the Trophy from President Fiona